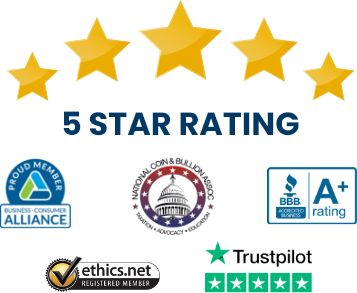 Continuous
Customer Support
Benefit from our continuous customer support and expert advice, helping you prosper by making informed investment decisions. At American Alternative Assets, we pride ourselves on delivering exceptional service and support for your Gold IRA. As the leading retailer of gold and silver in the nation, we have established a reputation for excellence. With an A+ Rating from the BBB and a stellar 5-Star Rating on Trustpilot, backed by thousands of glowing reviews, our commitment to customer satisfaction is unrivaled.

Smith

The time taken by the manager of the company; he explained (and reiterates!) things I want to be sure of. I also liked the long view he has in his dealings professionally.

Jim A

After hitting my early 50's and as my kids get older. I've really focused on retirement and over the last few years it's been really scary to lose a good portion of my retirement. Looking for something different I reached out to American Alternative Assets. Randy was amazing. His patience and knowledge was just what I needed. He walked me through everything. Big thanks to Randy for setting up our new account. My wife and I are so happy we're now diversified and have something safe and that's ours!

Rachelle D

"Couldn't be happier" I found American Alternative Assets and I couldn't be happier. I was Blowen away by how far they went to make sure my questions were answered, and they mad the transferring of my IRA simple and efficient. I highly recommend them give them a call and protect your retirement like I did.

Edward R

Big shout out to James @ American Alternative Assets. His market experience was very useful and he went above and beyond to make sure I was well taken care of. I called a few of the other shops and had to go through hoops just to talk to someone that knew what they were talking about. He suggested we wait to buy after a few up days and he was able to time it at the lowest price! Very impressed I would definitely recommend these guys. Top Notch!

Doreen B

They were great, informative and easy to talk to. Shannon ***** was very helpful as I was a first time investor. He was sure to keep me informed every step of the way. We even had some laughs along the way. I thoroughly enjoyed my experience. They were professional and courteous. I received my investment quickly. Great place to go to diversify your portfolio.

Peggy M

American Alternative was very easy to work with. ***** explained things so I could understand them and he has sent e-mails with interesting infor for me to know what is going on in the whole of things concerning gold and silver. It has made me feel secure in my choice of purchasing through you. Thanks!

Lyn H

Love the fact that we are protecting our retirement and savings with ************** My daughter lead us to ***** at American Alternative Assets, and he's been easy and fun to work with, explaining everything along the way. It's nice to have expert advice so accessible! Thanks, y'all!

Eloise W

My experience with AAA was excellent! This was my first precious metals purchase, and the team was patient, understanding and professional with me. And my main man, ***** ******, truly went the extra mile for me and helped me make the best decision to fit my needs.
Thank you all so much for sharing your expertise and wisdom. Hopefully, this is just my first purchase with more to come!
I wish you all every success!

Larry A

As a first time client of American Alternative Assets, I was a bit concerned.. NO WORRIES. Talk about customer service..It Was EXCELLENT! Arnold ******/MARK ******** walked me through the process, kept me informed during the process, and answered ALL of my questions. Thanks for your honesty and integerity. I will be a returning customer.. Larry ******

Abel W

We called a few of these other gold companies and no one gave us the time of day to really try to help us understand. We pretty much gave up until we talked with American Alternative Assets and ****! Not only did they take their time but they didnt rush my us into anything. He walked ur through every step and everything he said that was going to happen, Happened! I have ************** family and good friends to ****.

Gordon D W

Also ist time buyer with AAA. **** and ******* made the process very easy. Answered all of questions and calmed our fears in a very welcoming and professional manner. Will definitely do more business with them in the future. **************

Miriam R

I found American Alternative Assets thru a conservative AM talk show icon. When I called, I did not know what to expect and I did not want a "sales pitch". I was so tired of losing money in my hard earned 401K. I learned so much from ****** at American Alternative Assets in our first phone call. He answered all my questions and I felt comfortable knowing he was helping me understand things without trying to convince or "sell me". I have thought about gold/silver in my portfolio for several years and with recent developments within the financial system and the erosion of my 401K, I knew it was now or never. ****** guided me every step of the way and helped with the 401k rollover. He explained every step and told me what to anticipate/expect next. I feel so much more at ease that part of my overall portfolio is in gold/silver. It has been the best decision of my financial investment and my only regret is not doing it sooner. You cannot go wrong with American Alternative Assets….they are more than gold/silver as well!