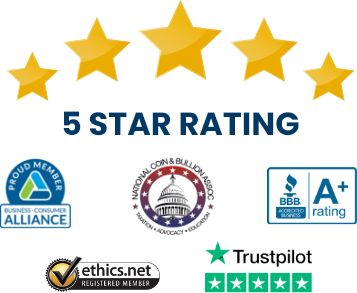 Continuous
Customer Support
Benefit from our continuous customer support and expert advice, helping you prosper by making informed investment decisions. At American Alternative Assets, we pride ourselves on delivering exceptional service and support for your Gold IRA. As the leading retailer of gold and silver in the nation, we have established a reputation for excellence. With an A+ Rating from the BBB and a stellar 5-Star Rating on Trustpilot, backed by thousands of glowing reviews, our commitment to customer satisfaction is unrivaled.

Mir

All my questions answered. Made me feel comfortable.

Robert Kirk

Upfront, courteous and informative. Comfortable to do business with and no pressure or canned speeches,

Shaun

A few years ago I was introduced to Shanon at Triple A for advice on investing in precious metals. Since then, I have acquired a healthy amount of metal from him and his team. I dealt with other brokers but I keep coming back to them because they simply are the best. I feel like they care, which is saying lot these days. They also have the inventory, which means I have options when it's time to purchase more. I'm a tough critic, but if I could give them 10 stars, I would!

Gordon D Wright

Honest, professional, people to do business with. Will definitely do more business with them in the future. All coins arrived in protective case and in perfect condition.

Jim A

After hitting my early 50's and as my kids get older. I've really focused on retirement and over the last few years it's been really scary to lose a good portion of my retirement. Looking for something different I reached out to American Alternative Assets. Randy was amazing. His patience and knowledge was just what I needed. He walked me through everything. Big thanks to Randy for setting up our new account. My wife and I are so happy we're now diversified and have something safe and that's ours! Jim A

Edward Reynolds

After talking to multiple gold dealers I am happy I found these guys!! Compared to the rest I felt like American Alternatives was the best choice! I never got the impression they were just trying to get my money but explaining to me and helping me throughout the whole thing was exactly what I needed. Thanks guys!

John Bateman

Randy and Mark are amazing in all aspects relating to customer service. I just recently got interested in diversifying, and I only deal with a few companies. This one stands out for sure. They took the time to talk to me, and that's something that is lacking in the world we live in. Super knowledgeable (of course). Super trustworthy. Super fast/secure shipping. Super fun to deal with! Don't hesitate to use this company.

Lyn

I've been working with Randy, which is a true pleasure. He is very helpful…this is his field of expertise, and not mine. However, it gives us great comfort and satisfaction to know that we are protecting our retirement by purchasing gold & silver. We will continue investing with American Alternative Assets, as we can.

Kathy

I had an AMAZING experience with AAA! Scott and Randy were so helpful and patient with me. They were very informative and knowledgeable able medals.
Thank You gentlemen for this experience and I look forward to my next investment!

Abel

I was once lost now am found !! I am a Good Christian and I always pray before for guidance before making big life decisions ….. I was lead by prayer and god to American Alternative Assets ! What a wonder and beautiful experience with my gold and silver purchase. Customer service was fantastic and they delivered in great time. I thank god for connecting with American Alternative !

Donna Meyers

As a first time client and retired law enforcement, I was skeptical and worried about purchasing precious metals online. I will be a return client. Arnold ****** and Mark******** were honest, informative, and professional throughout the process. They answered ALL of my questions and kept in constant contact until and after the order was in my hands. I"ll BE BACK.. Thanks

BD

I thank God I found AAA and pulled my IRA out of the stock market and into a precious metals investment. Mark & Randy are superb! What a blessing! They have made my investment transitions so easy. Their professionalism, experience & willingness to explain & answer all my questions has gone far & above any financial advisors I have ever dealt with in the past. I highly recommend them to everyone!
??? Triple thumbs up!!!