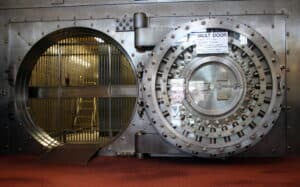 The final process in your precious metal journey ends in securely safeguarding your gold or silver bars in an established depository. Against the many dangers and challenges of home keeping your precious metals, depositories offer you the utmost security while ensuring full autonomy of your investments.
The Delaware depository stands in a class above others regarding safely securing your assets. They serve as the perfect topping to your precious metal IRA treat and ensure that your investment and retirement goals are met with your mind at rest.
Overview
Beginning in 1999, Delaware Depository has consistently demonstrated commitment to offering financial institutions, IRA custodians, refiners, broker-dealers, and individual investors custody, safekeeping, and distribution services for precious metals bullion.
Its status as an industry standard as a depository for precious metals stems from its excellent process and state-of-the-art security facility that ensures that clients rest safe knowing their investments are far away from harm as they could be. Their services are sought by both institutions and individuals owing to the trust built over the years.
CME- Licensed and IRA compliant.
The Delaware depository is licensed by the world's largest financial derivatives exchange, the CME Group to store gold and other precious metals. 
Delaware Depository has built solid credentials and enjoys a favorable reputation in the previous industry. As a result, bullion held in physical possession at the Delaware depository meets IRS requirements and is suitable for IRA precious metal storage.
Offering you the ease of storing your gold bars from your self-directed precious metal IRA, Delaware depository eliminates the high fees and hazards of self-dealing or home storage. 
Fully Secured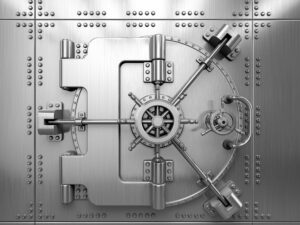 Delaware Depository holds the most sophisticated state-of-the-art security facilities to house different precious physical metals. It understands the value of precious metals and uses several layers of protection including policies and procedures to protect customer assets from theft and damage. 
These include physically reinforced, access-controlled buildings with high-security vaults and thorough security monitoring, such as metal, motion, vibration, and sound detectors. 
Professionalism
Delaware Depository's legal protections, security policies, and procedures are in place to give their customers peace of mind that their precious metals are secure. 
Precious metal investments are managed by specialists who also offer safekeeping and investment guidance. The transactions and processes conducted with the depository are strictly confidential. You can be confident that your affairs will remain private with responsive and friendly customer service.
 Insured
The chances of losing your precious metal at the Delaware depository is infinitesimal owing to the high technology in place to ensure impossibility of theft.
Nonetheless, the Delaware depository offers insurance to the tune of $1 billion through Lloyd's of London to further its security. This protects against all risks your precious metal might be exposed to while using their facility.
Conclusion
Fully functional in dealing precious metals for commercial and personal storage services as the most secured depository in the world, the Delaware depository continues to live up to its reputation. 
Licensed by the IRS to store self-directed IRA precious metals, it offers the safest option to house your precious metal investments.
To start your precious metal IRA journey, simply reach out to us today by contacting American Alternative Assets on….