American Silver Eagle (proof)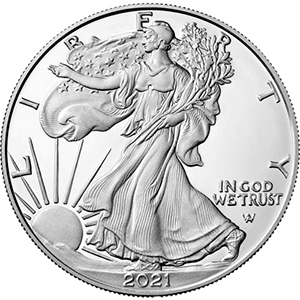 This elegant, high gloss coin was first struck in 1987. Unlike the bullion version of the same coin, the American Silver Eagle proof coin bears the strike of the Mint from which they were issued, and are not put into circulation. With a silver content of 99.9%, the purity of this proof coin is backed by the U.S. government.
Though the coin has a face value of $1, it has never circulated as such, being a repository of the real market value of the silver contained in the coin. Featuring Adolf Weinman's exquisite 1916 design of Walking Liberty, it is a truly stunning coin, as the original high relief design has been finally realized with 21st century technology.
The American Silver Eagle proof coin is the only limited-edition silver coin that you can place into a Precious Metals IRA.