American Gold Eagle (bullion)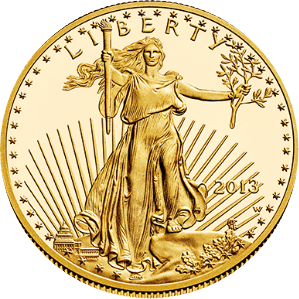 First released in 1986, the American Gold Eagle bullion coin is a joy to behold. Made of 91% gold, the coin is issued in denominations of 1/10 oz, 1/4 oz, 1/2 oz and 1 oz. Artist Augustus Saint-Gaudens and sculptor Miley Busiek both contributed to the coin; Saint-Gaudens' epic rendition of Lady Liberty is on the front, and Busiek's portrayal of a family of bald eagles is on the back.
The 1985 Gold Bullion Act, signed by Ronald Reagan, required that these magnificent coins be sourced only from U.S. gold. Coins struck between 1986 and 1991 use Roman numerals for the date, and starting in 1992, the coins were stamped with Arabic numerals (as is all U.S. currency).
Following customary money issuance, American Gold Eagle coins come in various denominations, with face values of $5, $10, $25 and $50 – though they have never been circulated as actual currency. The gold content is backed by the U.S. government, and as with all gold coins, the value of each is determined by market forces and thus has no relationship to its face value.
The American Gold Eagle proof coin is the limited-edition version of this coin, and can also be purchased for physical possession or to place into a Precious Metals IRA.