2021 Australian 2 oz. Silver Florin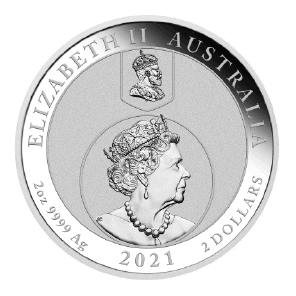 Australia's Perth Mint has issued a modern version of the timeless silver coin of the British Empire, the florin. During the Pax Britannica, silver florins changed hands on six continents, from Canada to Calcutta. Australia began minting its own florins in 1910, stopping only in 1963 when the traditional English monetary system was updated. The newer, streamlined denominations eliminated the need for the florin.
After updating the coin for the 21st century, Perth Mint is releasing its 2021 Australian 2 oz. Silver Florin for distribution solely through Birch Gold Group.
Meet the Australian 2 oz. Silver Florin
This fixed-mintage coin's obverse features Jody Clark's instantly-recognizable "fifth portrait" of Her Majesty Queen Elizabeth II. A small effigy of King Edward VIII (Australians called him the "soldier prince") appears as well, honoring his courage on the battlefields of World War I. Weight, purity, denomination and year of minting also appear on the obverse.
The reverse of the florin showcases the 1908 first Australian Commonwealth coat of arms. If you're accustomed to traditional European heraldic symbols, you're in for a bit of a surprise. A kangaroo and emu support a shield bearing the Cross of St. George with five six-pointed stars (one for each Australian state). Above the shield is the seven-point star of Federation, and below a banner with the motto, "Advance Australia." The reverse is marked "1910," in honor of the first year Australia minted florins. Indeed, the entire reverse of the Silver Florin pays homage to the florin's century-old original design.
First issued in 1344 by Edward III, the florin is a piece of history connecting Medieval England to modern-day Australia, knights in shining armor to the riflemen who landed at Gallipoli. This remarkable coin is a piece of history you can hold in your hand. This is a chance for Birch Gold Group customers to own a piece of the British Empire you can't get anywhere else.
The Australian 2 oz. Silver Florin is available to Birch Gold Group customers only. Choose between home delivery or placement within a Precious Metals IRA.