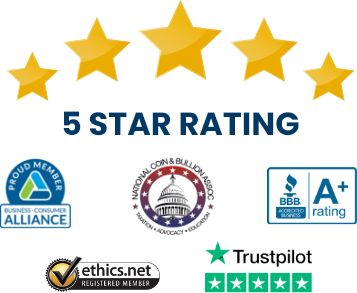 Continuous
Customer Support
Benefit from our continuous customer support and expert advice, helping you prosper by making informed investment decisions. At American Alternative Assets, we pride ourselves on delivering exceptional service and support for your Gold IRA. As the leading retailer of gold and silver in the nation, we have established a reputation for excellence. With an A+ Rating from the BBB and a stellar 5-Star Rating on Trustpilot, backed by thousands of glowing reviews, our commitment to customer satisfaction is unrivaled.

Amanda H

Hello all, my name is *****, and I became privy to American Alternative Assets from ****************** My 401k stocks had plummeted about ****** in a few months and that is due to the fake president that we have and all the evil going on so I decided to put my investment in gold and silver. And let me tell you, the gentlemen that work there are good solid American Patriots who love this country and they are so sweet and very helpful especially if you're a girl :-). I was very ignorant to all this stuff regarding stocks and they just really walk you through it and even help you to speak with your existing 401K people over the phone because they can be a little bit pushy and shady. They are just Top Notch men and I wish they didn't live so far because they're in ********** and I'm in ******* because I would love to meet them and shake their hands. I know that I made the best decision possible for my future especially to hedge against this inflation that we are witnessing or AKA the current tyrannical regime we are living under. I highly recommend this company for anyone who wants to protect their savings and investments. God bless and God bless america.

DONNA S

I have had many phone calls with AAA staff and have received what I wanted within a week of ordering, so I am very pleased with their service. What's the best part is not feeling like I am dealing with robots. This is important to me; we are in a day when it is very difficult to know if we are being treated honestly vs. being scammed because the ** can get very slippery. So, Thank You to AAA and always keep your principles because so many aren't! God bless America.

Joseph U

AAA is the best company I have ever used regarding alternative assets and my ***.In the past I have been deceived when purchasing metals. I had specifically requested certain types and the percentages of each that I wanted, but then ended up getting the exact opposite of what I had ordered. When **** assured me that he would let ME decide what was best for my particular situation, he wasn't lying. He did exactly as I asked, and on top of that I found the premiums to be very fair.Having purchased metals in the past, and not doing my due diligence prior, I'm now aware of "certain types" of sales reps and how wrong things can go.**** and ***** were very pleasant to work with and I felt no pressure to do anything that I didn't feel was right for my situation. Everything went as smooth as glass..and quickly too.If I decide to rollover even more of my *** into metals, my one and only call will be to ****.